About Pastor Alexis Felder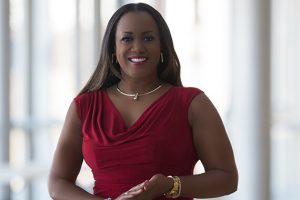 Dr. Alexis Felder is motivated by the principle, "Just because people are born into poverty, does not mean they are destined to a life of poverty."
Reverend Dr. Alexis LaShaun Brinkley Felder is a native of Milwaukee, Wisconsin. She received her Bachelor of Arts Degree in Religious Studies and Psychology, with an emphasis in Philosophy, from Saint Leo University where she graduated with honors.
Continuing her educational pursuits, she received a scholarship and graduated with honors from Garrett-Evangelical Theological Seminary at Northwestern University in Evanston, Illinois, with her Master of Theological Studies Degree in New Testament. In May 2008, she graduated from McCormick Theological Seminary with a Doctor of Ministry Degree in Preaching. Her thesis entitled, "From Pew to Purpose: Preaching to Transform the Spiritual Identity of a Faith Community for Social Transformation" addresses the challenges and provides an outline for the Christian church to make Jesus' last command the church's first priority through local and international missions work and evangelism.
A strong passion for missions, evangelism and outreach ministry, she served as a counselor to the homeless in Milwaukee and Atlanta. Dr. Felder has successfully lead bible study classes within the criminal justice system, hospice centers, nursing homes, low-income housing communities and served as a Chaplain.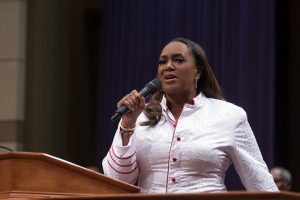 Before relocating to Illinois, she was employed by Citizens Trust Bank as the Vice President and Marketing Director where she was named among the Top 100 Most Influential Women in Banking and Finance for two years in a row by 'Women Looking Ahead Magazine". Before joining the Citizens Trust Bank family, Dr. Felder worked as the Administrative and Membership Director of the Southeast YMCA in Atlanta, Georgia and Milwaukee, Wisconsin; a Radio Announcer at WEZW in Hales Corners, Wisconsin; an On and Off Camera Announcer for B-Zign Communications in Milwaukee, Wisconsin; and as a Traffic Reporter with WMCS, an urban adult radio station in Milwaukee, Wisconsin. During those periods, she also competed in the 1994 Miss Black Wisconsin Pageant and was a runner-up. Additionally, Dr. Felder successfully competed in other local pageants in the Milwaukee area as the grand prizewinner. In 2012, Dr. Alexis Felder was recognized as the Women of the Year by the Zeta Phi Beta Sorority (Tau Psi Zeta Chapter).
Today, Dr. Felder serves as the Minister of Ministry Operations at New Faith Baptist Church International. She started her journey with New Faith as the Missions, Evangelism and Outreach Minister. Her sermons have been featured in the African American Pulpit's fall 2005 edition were she was recognized as an emerging voice among women preachers. Additionally, she has received several awards and recognitions for her commitment to excellence and her compassion for orphans and people living in poverty. She is a sought after national and international preacher and conference speaker.
Dr. Felder is also the Founder, CEO and Lead Volunteer of The Joseph Assignment Global Initiative, global Christian humanitarian 501(c)3 not-for-profit organization committed to responding to the basic needs of the world's poorest children and their families through sustainable initiatives. Through the Joseph Assignment she assists individuals and business in achieving their local and international mission goals. The Joseph Assignment offices are located in USA, Ghana, Liberia, Sierra Leone, South Africa and Jamaica. Currently, the Joseph Assignment feeds over 3500 orphans and school age children daily attending schools The Joseph Assignment has built. To date, the Joseph Assignment has impacted the lives of over 365,650 people living in extreme poverty around the world.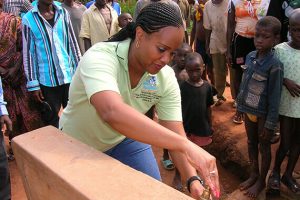 She is married to the Rev. Dr. Trunell D. Felder, Senior Pastor of New Faith Baptist Church International in Matteson, Illinois, a thriving worship center with over 7,000 members. New Faith is one church on two continents, in 3 countries and 22 locations worldwide with seventeen churches and six schools in Ghana, West Africa; five churches in Cape Town, South Africa as well as two new church plants in Liberia. Through both organizations, hundreds of thousands have been saved and transformed. Together, they have two wonderful children, Nora and Andrew. She is also the mother to thousands of orphans and vulnerable children all around the world as she works to raise money to provide them with quality health care, food, clean water, shelter and education.
But he said to me, "My grace is sufficient for you, for my power is made perfect in weakness." Therefore I will boast all the more gladly of my weaknesses, so that the power of Christ may rest upon me.